DANKO JONES – New album release livestream next Aug.28th !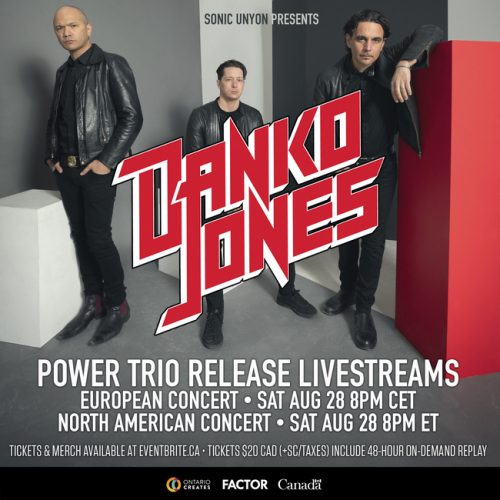 DANKO JONES will release their new album 'Power trio' next August 27th 2021, and invite you to a Release Livestream on August 28th !
Danko Jones exists to rock. It's his innate, guttural mode of expression. His daily ritual. His life's work. Now, after 25 years, 10 albums, world tours with the deities like Ozzy Osbourne, Guns 'n' Roses and Motörhead, and countless main-stage appearances at the world's premier music festivals, Danko Jones returns with new material in 2021, the fierce full-length Power Trio (out Aug 27, 2021). Be there as the band celebrates the release of that album and get a reminder of their reputation as an unstoppable rock machine in this exclusive livestream concert at Hamilton, Ontario's Bridgeworks.
This Toronto-based power trio has made a name as a must-see live band and after a year with no shows, they exploded back into view with a pair of take-no-prisoners livestream sets in early March, and they're back for what promises to be an even more legendary double-header on Saturday, August 28, when they'll play back-to-back livestreams for European and North American fans.