VOIVOD – Trois albums en remasters deluxe !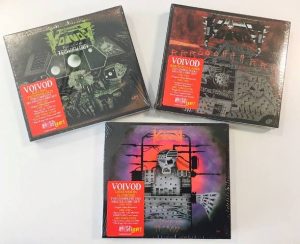 VOIVOD s'apprête à nous livrer trois de leurs albums phares en versions remasterisées, et sous différentes formes : double CD+DVD, vynil, … Rrrroooaaarrr, Killing Technology et Dimension Hatröss vont ainsi retrouver une nouvelle jeunesse, agrémentés de lives audio et vidéos !
Les trois brulots sont dispo en précommande, ICI !
Le détail juste en dessous !
« Rrrroooaaarrr » track listing:
CD1
* Korgull the Exterminator
* Fuck Off And Die
* Slaughter In A Grave
* Ripping Headaches
* Horror
* Thrashing Rage
* The Helldriver
* Build Your Weapons
* To The Death!
CD2 – Spectrum '86 – « No Speed Limit » Weekend; Live at Montreal, October '86
* Korgüll The Exterminator
* Ripping Headaches
* Blower
* Fuck Off And Die
* Tornado
* Iron Gang
* War And Pain
* Warriors Of Ice
* Nuclear War
* Overreaction
* The Helldriver
* Ravenous Medicine
* Voivod
* Thrashing Rage
DVD
Audio:
* Rrröööaaarrr Rough Mix Demo 1985
* Anachronism Live 25.06.86 (first show)
* Early Rehearsals 1983-1984
* Piggy Sound Collage 1980
Video:
* Live, NYC, N.Y., USA – 05/05/86; First U.S. Show
* Live, Long Beach, C.A., USA – 06/13/86
* Live, Jonquiere High School, QC, Canada, 12/20/84; Morgoth Invasion
* Live, Jonquiere Cultural Center QC, Canada, 01/27/84; To the Death!
* Slideshows: Artwork (1983 – 1986) + Live & Studio Photos (1985 – 1986)
« Killing Technology » track listing:
CD1
* Killing Technology
* Overreaction
* Tornado
* Too Scared To Scream
* Forgotten In Space
* Ravenous Medicine
* Order of The Blackguards
* This Is Not An Exercise
* Cockroaches
CD2
Spectrum '87 – Live In Montreal, September 1987:
* Killing Technology
* Overreaction
* Ravenous Medicine
* Tornado
* Korgull The Exterminator
* Ripping Headaches
* Blower
* Live For Violence
* Tribal Convictions
* Order of The Blackguards
* Cockroaches
* To The Death
* Voivoid
* Batman
DVD
Audio:
* Live At Kriekelaarzaal, Brussels, Belgium: 28/11/87
Video:
* Live At The Token Lounge, Westland, MI, USA: 14/05/87
* Live At Rossli Azmoosm, Sargans, Switzerland: 06/11/87
* Live At Festhalle, Tuttlingen, Germany: 07/11/87
* Live At Rex Club, Paris, France: 01/12/87
* Live At Ildiko's, Toronto, ON, Canada: 19/09/87
* Slideshows: Artwork (1987) | Live & Studio Photos (1987)
« Dimension Hatross » track listing:
CD1
* Experiment
* Tribal Convictions
* Chaosmongers
* Technocratic Manipulators
* Macrosolutions To Megaproblems
* Brain Scan
* Psychic Vacuum
* Cosmic Drama
* Batman
CD2 – Spectrum '88 – 'A Flawless Structure?'; Live in Montreal, December 21st 1988:
* Overreaction
* Experiment
* Tribal Convictions
* Chaosmongers
* Ravenous Medicine
* Korgull The Exterminator
* Technocratic Manipulators
* Macrosolutions To Megaproblems
* War And Pain Medley
* Brain Scan
* Psychic Vacuum
* Order to The Black Guards
* Holiday In Cambodia
* Batman
DVD
Audio
* « Dimension Hatröss » Demo 1987
Videos
* Live At Blondies, Detroit, MI, USA: 18.11.88
* Live At The Axiom, Houston, Texas, USA: 10.12.88
* Live At Anthrax, Norwalk, CT, USA: 09.11.88
* Live At Fenders Ballroom, Long Beach, California, USA: 03.12.88
* Slideshows – Artwork + Live And Studio Photos (1988)